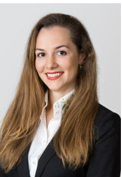 Ekaterina Giganova
Head of the Corporate Policy Department
Year of birth: 1982
Education: higher education.
2004: Graduated from the State University - Higher School of Economics, Law Faculty.
Nationality: Russian.
Positions held in the last 5 years:
2011-2018: Senior Lawyer, DLA Piper Rus Limited.
Since 2019: Head of the Corporate Policy Department, Unipro PJSC.
No interest in the company's authorised capital, no acquisition or disposal of shares in Unipro PJSC in 2019.