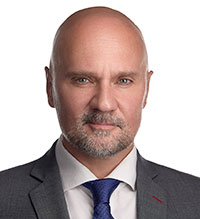 Grigoriev Dmitriy
Strategy and Development Director Unipro PJSC
General Director of OOO E.ON Connecting Energies
Year of birth: 1969.
Academic Background:
In 1994 – graduated from Moscow Aviation Institute.
In 2011 – МВА in financial management in International school of business (Institute) of the Financial University.
Nationality: Russia.
Positions held in the last 5 years:
February 2016 – till present – General Director of OOO E.ON Connecting Energies
2018 – October, 2022 – Director, projects Unipro PJSC.
October, 2022 – till present – Strategy and Development Director Unipro PJSC.
No interest in the company's authorized capital, no acquisition or disposal of shares in Unipro PJSC in 2021.