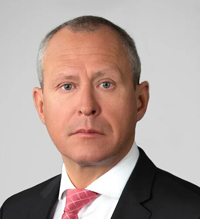 Maxim Shirokov
Member of the Board of Directors, Chairman of the Management Board, member of the Sustainable Development Committee of the Board of Directors.
Year of birth: 1966.
Education: higher education.
1988: Graduated from Moscow Red Banner Military Institute, Ministry of Defence.
1994: Graduated from Moscow Law Institute.
1996: MBA diploma, Pacific Coast University, USA.
2003: Graduated from London Business School.
Nationality: Russian.
Positions held in the last 5 years:
Since 2012: Chief Executive Officer, Unipro PJSC.
Since 2018: Chief Executive Officer, Unipro Engineering LLC.
Current membership of the management bodies of other companies and organisations:
Since 2013: Member of the Supervisory Board, Council of Power Producers Association.
No interest in the company's authorised capital, no acquisition or disposal of shares in Unipro PJSC in 2021.