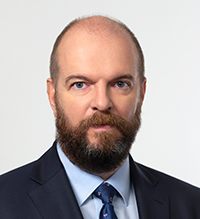 Ulf Backmeyer
Chief Financial Officer, Deputy Chairman of the Management Board
Year of birth: 1970.
Education: higher education.
1996: Graduated from Universität Passau (Germany), majoring in economics of culture.
Nationality: Germany.
Positions held in the last 5 years:
Since 2011: Deputy CEO for Finance and Economics, Unipro PJSC.
Elected to the Management Board on 28 January 2011.
No interest in the company's authorised capital, no acquisition or disposal of shares in Unipro PJSC in 2021.